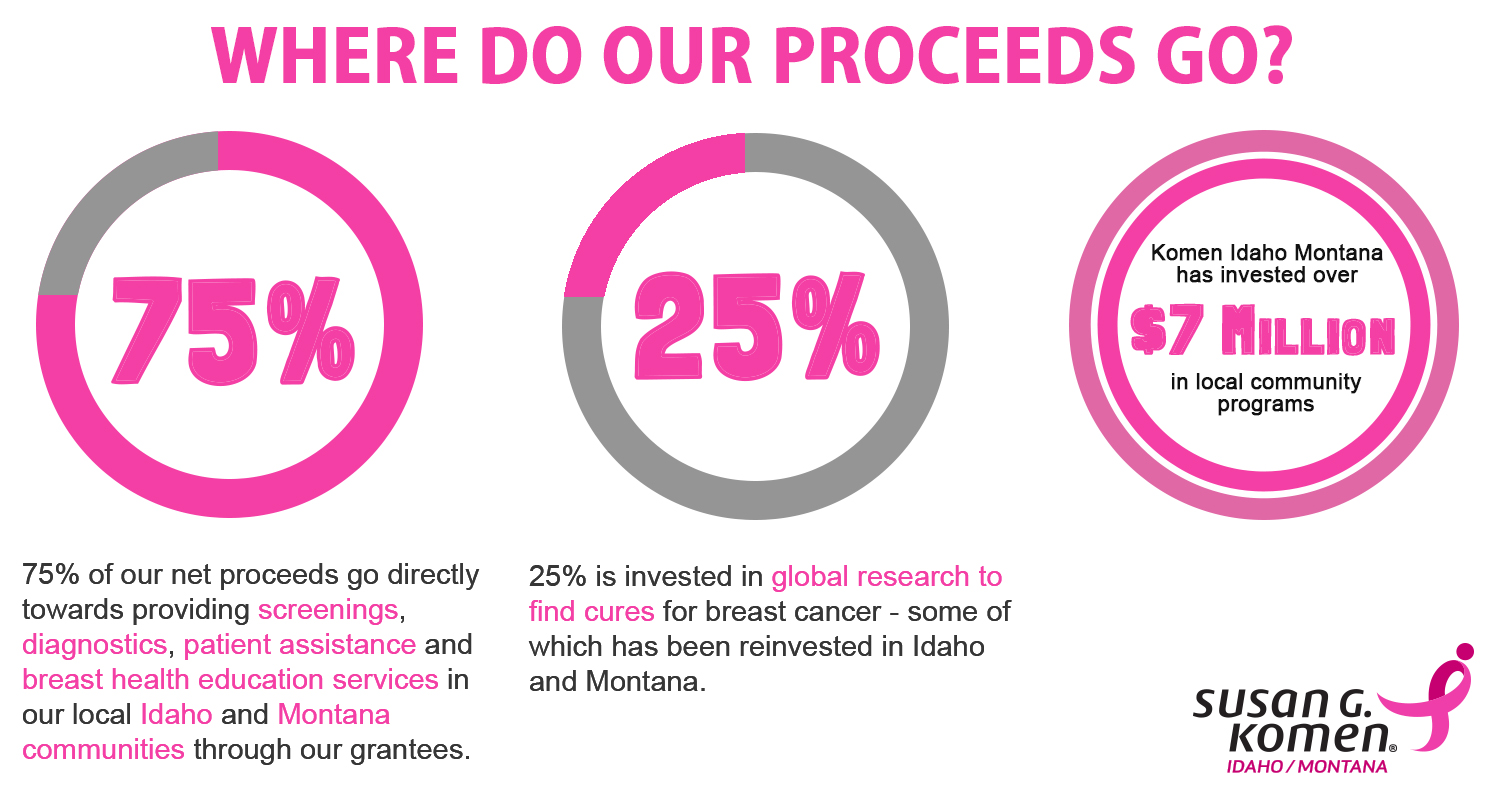 Komen-ology : Common Komen Terms
Affiliate – Susan G. Komen is a worldwide organization with the mission to end breast cancer forever. An Affiliate is a smaller organization that works on the same mission and follows the Komen guidelines while servicing a specific area or region. Komen Idaho Montana is an Affiliate of Susan G. Komen that focuses on providing services in Idaho and Montana.
Community Grants – Funding provided by Komen Idaho Montana to a health care provider, non-profit agency, or government entity with the purpose of providing screening mammograms, diagnostic services, and/or financial support to those in need.
Co-survivor – A co-survivor is anyone who supports a survivor during and following breast cancer treatment. It can be a friend, family member, spouse, co-worker, health care professional, etc.
Forever Fighter – A Forever Fighter is someone battling stage IV or metastatic breast cancer that has spread to their bones, liver, lungs and/or brain. Currently there is no cure for metastatic breast cancer. Men and women with this diagnosis are in a battle for the rest of their life, unless a cure is found. Most people with metastatic breast cancer do not identify with the term "Survivor" since their battle in ongoing. Forever Fighter is a term used to honor those in the fight against stage IV metastatic breast cancer.
Grantee – A health care provider, non-profit agency, or government entity that has received a community grant from Komen Idaho Montana.
Mission – The Susan G. Komen mission is to save lives and end breast cancer forever by empowering people, ensuring quality care for all and energizing science to find the cures.
Promise – Komen was built on a promise between 2 sisters. Before Susan Komen died of breast cancer at age 36, her sister, Nancy Brinker, promised her she would do all she could to end breast cancer forever. This promise became the largest breast cancer organization in the world.
Race for the Cure – The series of 5K runs and fitness walks raises significant funds and awareness for the breast cancer movement, celebrates breast cancer survivorship and honors those who have lost their battle with the disease.
Survivors – We believe you are a breast cancer survivor from the minute you are diagnosed with breast cancer. You can still be in treatment or finished treatment years ago, either way you are a survivor!